Fungal nails (aka Onychomycosis) refers to any number of fungal nail infections that can occur on the foot. Since fungal nails are usually more resistant and more difficult to treat than Athlete's Foot, topical or oral antifungal medications may be prescribed. Note: Please consult a physician before taking any medications.
Common Nail Changes :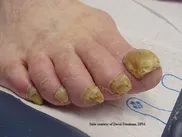 Brittleness

Change in nail shape

Crumbling of the outside edges of the nail

Debris trapped under the nail

Loosening or lifting up of the nail

Loss of luster and shine

Thickening of the nai

White or yellow streaks on the side of the nail
Treating Fungal Nails:
Topical Antifungals: this is a liquid, cream, or lotion applied directly to the nail a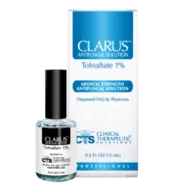 nd surrounding skin to kill the fungus.
Summit Podiatry Group is proud to carry the premier topical antifungal solution. This easy to use, safe, and effective topical agent is available for purchase in our office. Ask your doctor about this product which is called CLARUS ANTIFUNGAL SOLUTION.
CLARUS ANTIFUNGAL SOLUTION, 1% Tolnaftate, is a safe, effective, oil-soluble formulation indicated for the treatment of athlete's foot (tinea pedis) and ringworm (tinea corporis). The proprietary vehicle contains a menthol derivative combined with essential oils designed to enhance the penetration of tolnaftate.
Product and Attributes:
Oil-soluble Tolnaftate

Will not stain

Pleasant scent

No removal or cleaning of residue

Includes a convenient Applicator Brush

Paraben-free

Clear and fast drying

CLARUS ANTIFUNGAL SOLUTION is distributed directly to physicians, dispensed at the point of care directly to patients, and offers a no-risk, unconditional, patient-direct money-back guarantee.

Available in a 0.5 fl oz (15 mL) bottle
OOo Oral Antifungals: Prescription antifungal medicines taken by mouth may help clear the fungus. Typically these medication need to be take for 3 months or longer to completely irradicate the fungus. Your physician may check blood work to check for liver damage while taking this medication.
Lamisil (terbinafine)

Sporonox (itraconazole)

Diflucan (fluconazole)

Grispeg (griseofulvin)

. Thes e3 mo
Nail Removal : Temporary of permanent nail removal can easily be performed in the office under a local anesthesic.
Debridement: periodic removal of the diseased portion of the toenails and fungal debris that builds up underneath the toenails. In mild cases, the patient may be able to do this themselves with sterile clippers. Thinning the nail with a clean nail file is also helpful to allow the topical medicine to penetrate deeper into the nail bed. In more severe cases of nail fungus, this should be performed by a Podiatrist. ..
Combination Therapy: You and your doctor may elect to treat your fungal infection with a combination of therapies
Preventing Fungal Nail Infections

After a fungal nail infection has cleared up, take steps to prevent the infection from recurring. Keeping fungi at bay will help prevent a fungal infection of the skin from reinfecting the nail. Before bed, thoroughly wash and dry your feet, and apply a nonprescription antifungal cream to the entire foot from the ankle down. Use the cream every night, then gradually apply it less often. Keep your feet dry. Dry feet are less likely to become infected. Apply powder to your dry feet after you take a shower or bath.
Other suggestions for preventing fungal nails include:
Don't share nail clippers or nail files with others.

Don't share shoes or socks with others.

Try not to injure your nail, such as by cutting it too short (trauma to the nail may lead to infections).

Wear dry cotton socks and change them two or three times a day if necessary.

Wear dry shoes that allow air to circulate around your feet (tight, enclosed, moist shoes contribute to fungal toenail infections).

Wear shower sandals or shower shoes when you are at a public pool or shower.